The Museum is the former St. Edmunds Settlement School, and was opened in May, 1967. The building, which dates back to 1898, houses land deeds and registers, together with many photographs following the history of the people in this area.
The ground floor also has displays showing lumbering, which together with fishing and hunting, were the main occupations.

Marine History The upper floor is dedicated to marine history - displaying maps, descriptions of old boats and relics from shipwrecks. The display provides an insight into the way of life in this area at that time, with many examples of tools and how they were used.
Log Cabin On the grounds is a log house, built in 1875 and moved to the present location in 1971. It is furnished as the house would have been in the 19th century including pots, pans, china and linen.
The museum is located 3 km south of Tobermory Harbour on the East side of Highway 6, just north of the crossroads of Warner Bay Road on the West and Little Cove Road on the East and is managed by The Northern Bruce Peninsula History Committee.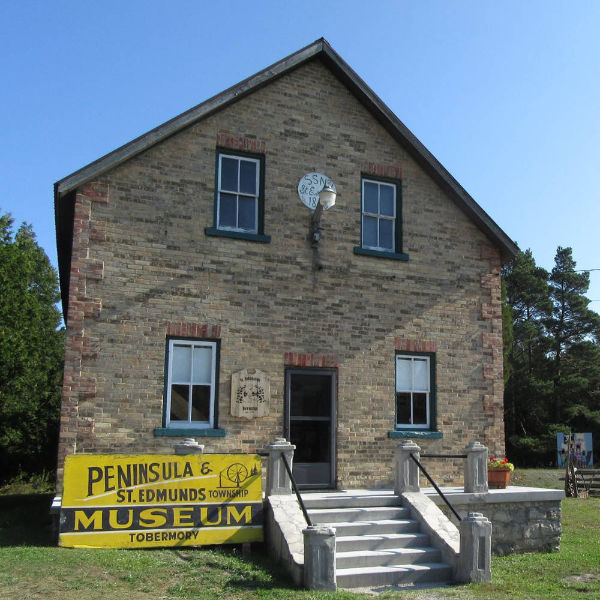 Hours
 Daily July & August
11:00 am - 4:00 pm

Weekends Victoria Day to
Thanksgiving Weekend (Sat. and Sun.)

11:00 am - 4:00 pm
We also offer for sale the book Hewers of the Forests, Fishers of the Lakes: The History of St. Edmunds Township.

This describes the lives of the people of this area from 1870 - 1984, including many photographs and family trees.

A perfect complement and souvenir of your visit to the St. Edmunds Museum.